The Jazz Piano Player: Autumn Leaves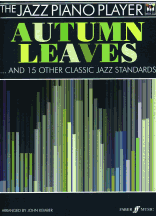 An essential resource for all Jazz pianists, featuring 16 jazz standards each presented in two formats: the first including the melodic, lyrics and basic chord structure, ideal for improvisation; the second is a superb arrangement for piano solo suitable for intermediate-level pianists. All songs are in their standard key, enabling pianists to play with other jazz musicians. A free CD features performances of all the piano arrangements, played by John Kember.
First published in 2008, Jazz Piano: Autumn Leaves is intended for Grades 5 to 8. It has 16 arrangements on 64 pages.
Price £12.99
The pieces in this book are from the Golden Age of song writing, which have stood the test of time to become 'standards' for jazz musicians as well as singers. They represent the pinnacle of the art of melody writing, combining brilliant lyrics with wonderful harmonies. This series aims to help aspiring jazz pianists (whether soloists, accompanists to singers or instrumentalists, or pianists in a band or jazz group) to understand and get these jazz standards firmly 'under their fingers'.
My Funny Valentine

Lorenz Hart / Richard Rogers

Autumn Leaves

Jaques Prevert / Joseph Kosma / Johnny Mercer

September Song

Maxwell Anderson / Kurt Weill

Try To Remember

Tom Jones / Harvey Schmidt

I Could Write A Book

Lorenz Hart / Richard Rodgers

Nice Work If You Can Get It

George Gershwin / Ira Gershwin

I Didn't Know What Time It Was

Lorenz Hart / Richard Rodgers

Embraceable You

George Gershwin / Ira Gershwin

Summertime

George Gershwin / Du Bose Heyward / Dorothy Heyward / Ira Gershwin

Emily

Johnny Mercer / Johnny Mandel

Ev'ry Time We Say Goodbye

Cole Porter

I Get A Kick Out Of You

Cole Porter

Come Rain Or Come Shinme

Jonny Mercer / Harold Arlen

Ain't Misbehavin'

Andy Razaf / Thomas 'Fats' Waller / Harry Brooks

Someone To Watch Over Me

George Gershwin / Ira Gershwin

I Got It Bad And That Ain't Good

Paule Webster / Edward Ellington