Piano Sight-Reading 3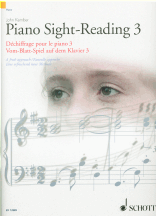 A progressive approach based on self-learning, with 90 varied pieces for Intermediate to Advanced level.
First published in 2006, Piano Sight-Reading 3 is intended for Grades 5 to 8. It has 90 original tunes on 77 pages.
Price £13.99
Develops awareness of unusual keys, time signatures and styles. Introduces accompaniment and transposition skills. Includes a new section with pieces in the familiar styles of well-known composers.